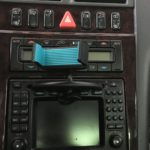 Driving while trying to follow directions on your phone can be difficult. Changing the song while trying to keep an eye on the road can also be hard, if it is sitting in the cup holder. Using a CD car mount holder can make looking at the screen much easier and safer. Here are a few things to consider before buying a smartphone or GPS holder:
 

Make sure that the holder does not block or obstruct the view while driving. Smartphone holders that suction to the windshield of cars can often make seeing part of the lane or other drivers more difficult.

 

Car mount holders that require adhesives can leave slimy residue on dashboards that can be hard to come off. The adhesives can also melt in the heat and cause the car mounts to become unsteady or fall over.

 

Vent clips, can block the flow of air with the phone making it harder to circulate air conditioning or heat. It also isn't good for a phone to have hot air blowing directly onto the back because it could over heat.

 

Magnetic holders usually only work when the case is off the phone. Taking a case off can be bothersome and risky for the screen if the phone accidentally falls off the magnet.
Buying a smartphone holder that holds a phone, tablet, or GPS tight is important, because if they fall out of the holder while driving it can cause a distraction that might lead to an accident. Universal CD smartphone holders that can fit different size products, quickly, and with no hassle set up are ideal.