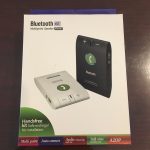 Our new Bluetooth Multipoint Speakerphone is a MUST HAVE for everyone. This safe and legal product comes with one hands free Bluetooth multipoint speaker phone that easily connects up to two phones simultaneously. The Bluetooth connects within 10 meters (approximately 35 feet) and can store 8 mobile phone connections. It's lightweight, super easy to setup and can be placed right on the sun visor. With the rechargeable lithium-ion batteries it holds up to 20 hours and has a standby time of about 700 hours.  This is perfect for traveling and/or vehicles without Bluetooth built-in.  While you're sleeping you can charge the device for 2-3 hours.
Did you know when you rent a car that has Bluetooth or connect your phone to any Bluetooth device your phone data automatically saves to it? Without a factory reset the data will be on the device.  But, with the Bluetooth multipoint speaker phone you do not have to worry about anyone getting your information, you'll have it stored on your own portable device!
The Bluetooth has a high sensitivity microphone with DPS noise suppression and echo cancellation functions provide clear sound with built-in supports playing music and call number reading. The device answers calls, announces the calling number, voice dials, ends calls and rejects calls. It also automatically becomes dormant after the disconnection with Bluetooth devices after 10 minutes.
Our Package includes:
1 Bluetooth In-car Speakerphone

1 Car Charger

1 Sun Visor Clip

1 USB Charging Cable

1 User Manual
Get them now with us for $19.99!